Roll over image to zoom in
Click to open expanded view
Description
Zotac Geforce GT 730
Style name: Zone Edition 4GB
Product Description:
Upgrade to dedicated graphics and memory for unmatched high-definition visuals and performance with the ZOTAC GeForce GT 730. Hardware accelerated Blu-ray 3D playback enables the ZOTAC GeForce GT 730 to render stunning stereoscopic high-definition video with compatible displays and playback software. Advanced Dolby True HD and DTS-HD Audio lossless multi-channel HD audio bit streaming ensures the ZOTAC GeForce GT 730 delivers rich audiophile-class audio to match the beautiful visuals. NVIDIA Surround technology with triple-display support enables the ZOTAC GeForce GT 730 to deliver unmatched gaming immersion and maximum productivity.
From the Manufacturer
Experience the Thrill and Excitement of a Real game: 
Now you can upgrade to the much in demand dedicated graphics and memory at just a click with this Zotac Graphics Card. For unmatched high-definition visuals and awesome performance, you must get hold of this ZOTAC GeForce GT 730 4GB Zone Edition Graphics Card. It is here for the tech savvy people who love to spend time at home playing video games. It will be a smart addition to your PC. The images that you see on your monitor can get a perfect change when you have this graphics card installed in your PC. A graphics card's job is to make the graphics look amazing. The graphics card combines with the motherboard connection for data and power. This graphics card will play an essential role to develop the quality of the images, so it is quite an important thing that you need to add this in your system.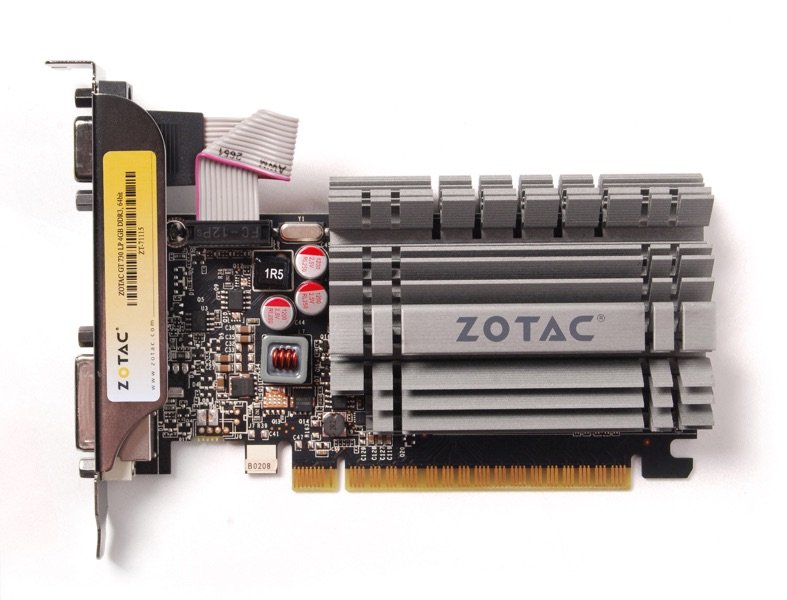 The Look:
This graphic card belongs to the Zotac Zone Edition and belongs to the Zotac GT 730 series and the form factor is ATX i.e Advanced Technology eXtended. It is easy to install and is user-friendly. The height of the card is 111.15 mm, the width is 145.79 mm. the height, width and depth of the box are 160mm, 260 mm and 58 mm, respectively.
Fantastic Features:
This Zotac 4GB DDR3 comes with accelerated hardware and is powered with Blu-ray 3D playback. This feature enables the ZOTAC GeForce GT 730 4GB Zone Edition Graphics Card to render some stunning and stereoscopic high-definition videos. The triple screen compatibility lets you experience the amazing world of your favourite heroes in reality. You will get to experience stunning visual effects when this card is combined with compatible displays and playback software. It also features advanced Dolby True HD and DTS-HD Audio for seamless streaming of quality-rich audio. Quality audio clubs with quality video and the outcome is thus, amazing. NVIDIA Surround technology with triple display support enables the ZOTAC GeForce GT 730 to deliver unmatched gaming performance. The manufacturing of this card is so good that it will amaze you with its features and this performance cannot be expected in any other graphics card. Some exceptional features include NVIDIA Adaptive Vertical Sync technology that reduces frame rate stuttering and screen tearing. Adaptive VSync is a smart and easy way to render frames using NVIDIA Control Panel software. NVIDIA Surround technology expands your visual experience and helps you to get immersed in the game. Hardware Video Decode Acceleration lets the graphic card perform well post-processing. It also helps in the rendering of the decoded video and makes heavy sub-tasks of playing digital video easy. Blu-ray 3D ready lets you experience 3D visuals at home. When you have this feature in the graphics card, you will be able to have a real gaming experience in the comfort of your home. The NVIDIA Unified Architecture doubles the thrill and excitement of the game. NVIDIA PhysX technology is a powerful engine that enables real-time physics in all the latest PC games. This feature is used by many leading developers. The processor has the power of taking gaming physics to the next level. NVIDIA CUDA technology enables dramatic increase in computing performance. This is done by harnessing the power of the graphics processing unit (GPU).
Ports and Power:
There is one DL-DVI-D port, one VGA port, and one HDMI port and there are ports for triple simultaneous display capable. This graphic card is HDCP compliant. The power supply recommended is 300-watt and the max power consumption is 25-watt.
Compatibility:
The software compatibilities are NVIDIA GeForce driver, Microsoft DirectX 12 (feature level 11_0), OpenGL 4.4, Microsoft Windows Vista/7/8 x86/x64. It is HDTV ready and provides visuals of ED 480p, HD 720p, HD 1080i, Full HD 1080p and Quad Full HD (4K).
Specification:
GPU: GeForce® GT 730

CUDA cores: 384

Video Memory: 4GB DDR3

Memory Bus: 64-bit

Engine Clock: 902 MHz

Memory Clock: 1600 MHz

PCI Express: 2

Display Outputs: DL-DVI, VGA, HDMI

HDCP Support: Yes

Multi Display Capability: 3

Recommended Power Supply: 300W

Power Consumption: 49W

Power Input: N/A

DirectX: 12 API(feature level 11_0)

OpenGL: 4.4

Cooling: Passive

Slot Size: Dual Slot

SLI: N/A

Supported OS: Windows 10 / 8 / 7 / Vista / XP

Card Length: 145.79mm x 111.15mm

Accessories: Low profile bracket [HDMI + DVI], Low profile bracket [VGA], Driver Disk, User Manual
Read More: https://www.zotac.com/us/product/graphics_card/geforce%C2%AE-gt-730-4gb-zone-edition
Related Products: https://www.pcisland.in/product-category/pc-parts/
Specification
Questions & Answers
Questions and answers of the customers
There are no questions yet. Be the first to ask a question about this product.