MSI Radeon RX 5600 XT X GAMING
₹29,499.00
MSI Radeon RX 5600 XT X
Core/Memory
Boost Clock / Game Clock* / Base Clock / Memory Speed
Up to 1750 MHz / Up to 1615 MHz / 1420 MHz / Up to 14 Gbps
6GB GDDR6
DisplayPort x 3 (v1.4) / HDMI 2.0b x 1
TORX FAN 3.0: Supremely silent
Dispersion fan blade: Steeper curved blade accelerating the airflow.
Traditional fan blade: Provides steady airflow to massive heat sink below.
RGB Mystic Light
Customize colors and LED effects with exclusive MSI software and synchronize the look & feel with other components.
Afterburner Overclocking Utility
Wireless control through Android/iOS devices.
Predator: In-game video recording.
Compare
MSI Radeon RX 5600 XT X GAMING
Great gaming experiences are created by bending the rules. The all-new RDNA powered Radeon RX 5600 series for exceptional performance and High-fidelity gaming. Take control with Radeon RX 5600 series and experience powerful, accelerated gaming customized for you.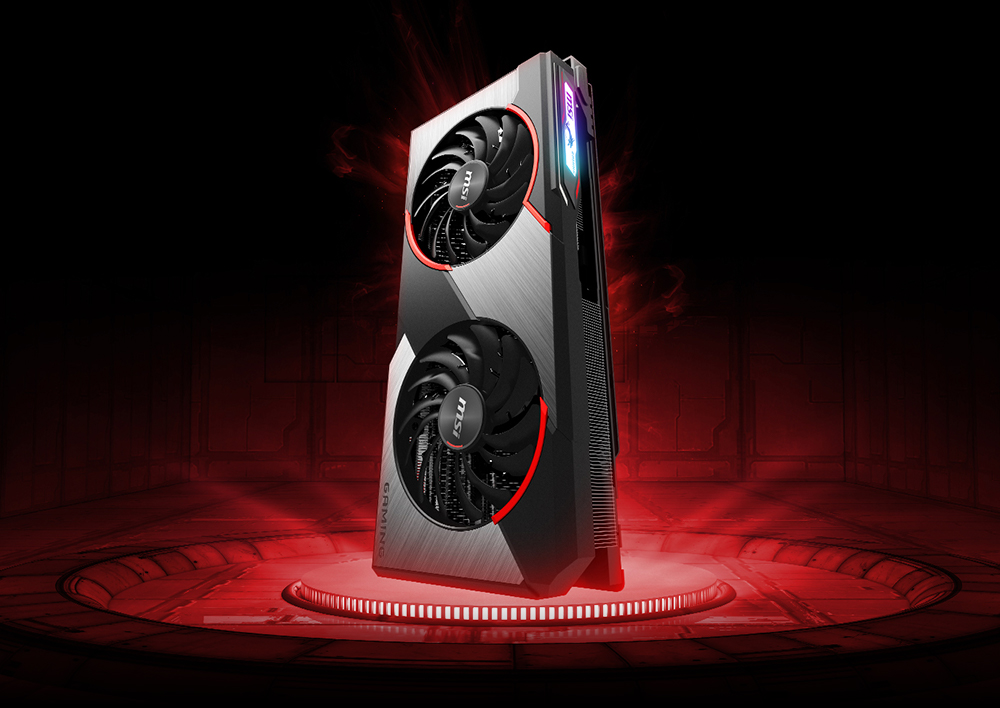 Game Fidelity Accelerated
High-performance RDNA architecture was engineered to greatly enhance features like Radeon Image Sharpening, FidelityFX, and VR technologies3 for maximum performance and jaw-dropping gaming experiences.
Immersive Gaming Dynamics
Get the competitive advantage with dramatically reduced input lag with Radeon Anti-Lag, get stutter-free, tear-free gaming with AMD Radeon FreeSync technology, and the latest Radeon Software for incredibly responsive and insanely immersive gameplay.
The New Gaming 
R

DNA Architecture

Radeon RX 5600 series features new compute units, new instructions better suited for visual effects, and a multi-level cache hierarchy for greatly reduced latency and highly responsive gaming. MSI Radeon RX 5600 XT X is a silent Beast.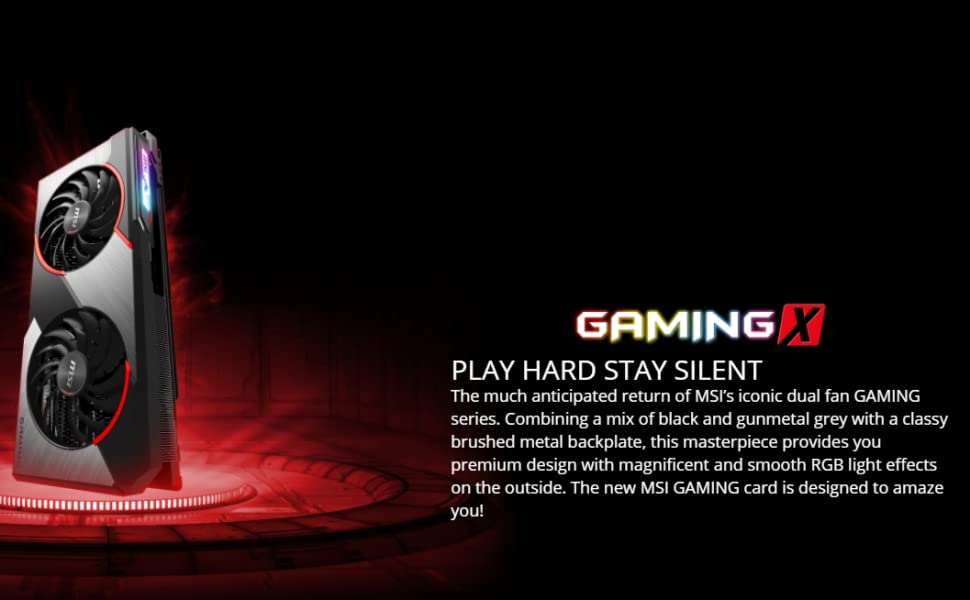 TWIN FROZR 7 THERMAL DESIGN

The 7th generation of the famous MSI TWIN FROZR Thermal Design brings the most advanced technology for ultimate cooling performance. It features the new TORX FAN 3.0 combined with groundbreaking aerodynamic feats. This means stable performance and a silent experience are guaranteed thanks to low temperatures. MSI Radeon RX 5600 XT X Comes With Twin Frozar 7 Thermal Design.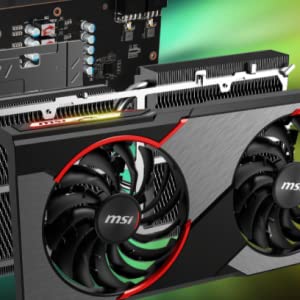 EXPERIENCE
Get the most out of your MSI graphics card in terms of performance and experience with almost unlimited customization options with the included software.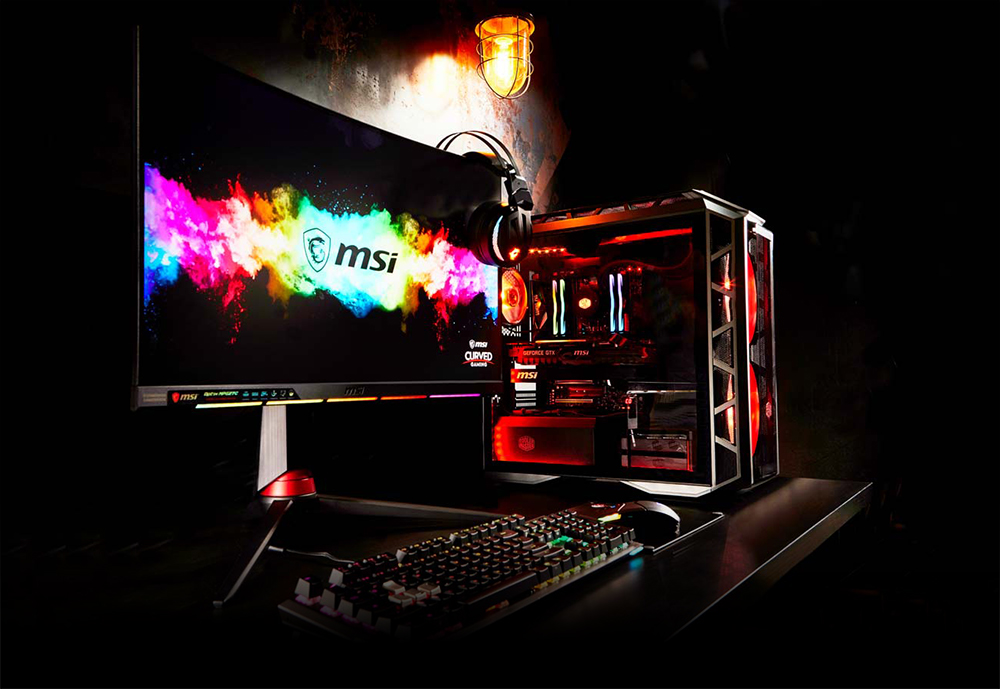 Radeon® Image Sharpening
Radeon Image Sharpening combines contrast-adaptive sharpening with GPU upscaling to deliver crisp and detailed visuals with virtually no performance impact. Now with DirectX™ 9, 11, and 12 support.
Integer Display Scaling
Play classic games and relive the retro experience by scaling on-screen images from one pixel to four pixels (or more) to deliver a retro-like visual gaming experience.
AMD Radeon FreeSync™ Technology
Take your gaming experience to the next level with higher response times. Features like AMD FreeSync™ technology, Radeon® Anti-Lag, and Radeon™ Boost deliver stutter-free, tear-free, highly responsive gameplay. MSI Radeon RX 5600 XT X Gaming Comes with AMD FreeSync Technology.
Highly Responsive Gameplay
Radeon™ Boost delivers added performance and fluidity when fast motion via mouse input is detected, dynamically lowering the resolution of the entire frame to allow for higher FPS with little perceived impact on quality.
Experience Gaming Adrenalin
The latest Radeon® Software Adrenalin 2020 Edition introduces a completely redesigned user experience unleashing the full potential of your GPU, with day-0 drivers optimized for new game releases and a highly customizable gaming experience.
THE FUTURE OF GAMING
The smoothest, fastest, and most exciting gaming experience ever by eliminating screen tearing, display stutter, and input lag. MSI Radeon RX 5600 XTX is a Very Responsive Graphics Card and provides a great amount of FPS in Gaming.
Ultra-high resolution (UHD) delivers 4x the resolution of 1080p content, enabling much sharper and crisper images with delicate details during gaming.
High Dynamic Range (HDR) enhances your gaming world with higher contrast and brighter colors than you've ever seen before.
PREPARE FOR VR WITH MSI
To experience and enjoy the impressive world of Virtual Reality, high-performance hardware is required. MSI, a world-leading brand in high-end gaming and eSports, provides the right advice to make sure your system is VR Ready. Integrating the very best of cutting edge technologies in recommended MSI VR gaming hardware for smooth performance. Together with our VR partners, MSI brings gamers an extremely realistic VR experience where games come alive. MSI Radeon RX 5600 XT X is Great at handling heavy-duty games in VR.
MSI APP PLAYER
Developed under an exclusive partnership with BlueStacks, the MSI APP Player brings seamless mobile gaming experiences to PCs. Leverage the advantages of mouse and keyboard controls, better graphics, and multi-tasking for mobile gaming supremacy.
Specification :
| | |
| --- | --- |
| Model Name | Radeon RX 5600 XT GAMING X |
| Graphics Processing Unit | Radeon™ RX 5600 XT |
| Interface | PCI Express 4.0 |
| Cores | 2304 Units |
| Core Clocks | Boost: Up to 1750 MHz / Game: Up to 1615 MHz / Base: 1420 MHz |
| | (Game Clock is the expected GPU clock when running typical gaming applications, set to typical TGP (Total Graphics Power). Actual individual game clock results may vary.) |
| Memory Speed | 12 Gbps |
| Memory | 6GB GDDR6 |
| Memory Bus | 192-bit |
| Output | DisplayPort x 3 (v1.4) / HDMI 2.0b x 1 |
| HDCP Support | Yes |
| Power consumption | 150W (This data is not fixed, it may differ by core clocks.) |
| Power connectors | 8-pin x 2 |
| Recommended PSU | 450W |
| Card Dimension(mm) | 297 x 58 x 140 mm |
| Weight (Card / Package) | 1401g / 2032g |
| DirectX Version Support | 12 |
| OpenGL Version Support | 4.6 |
| Multi-GPU Technology | Yes |
| Maximum Displays | 4 |
| VR Ready | Yes |
| Digital Maximum Resolution | 7680×4320 |
MSI Radeon RX 5600 XT X
Read More: https://www.msi.com/Graphics-Card/Radeon-RX-5600-XT-GAMING-X
Related Products: https://www.pcisland.in/product-category/pc-parts/graphic-card/
Additional information
| | |
| --- | --- |
| Weight | 1 kg |
| Dimensions | 29.7 × 14 × 3 cm |
| Manufacturer | |
| GPU | |
| Graphic Chipset | |
| Graphics Memory Type | |
| Memory Interface | |
| Memory Size | |
Questions and answers of the customers
There are no questions yet. Be the first to ask a question about this product.